PRODUCTION
PRODUCTION
LEGS is a company specialising in the production of natural, synthetic, and artificial yarn. With more than 20 years in business, we have gained the trust of many customers and the high quality of our yarn is due to our modern technological facilities as we have our own covering, grafting and texturizing plant. This enables us to provide you with the exact products you need. Quick completion of even the most complicated orders and professional advice are ensured.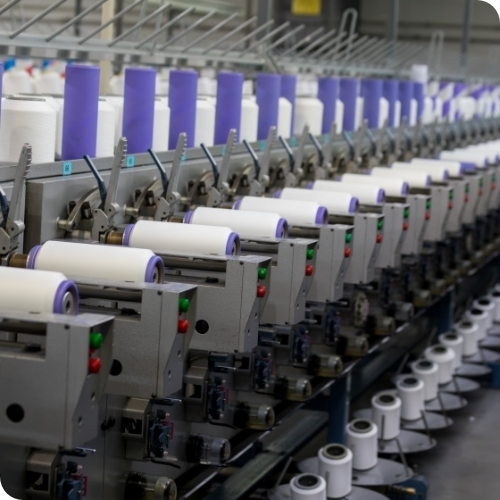 COVERING (SCY, DCY)
The average monthly production of covered yarns is about 100 tonnes, both in single-covered yarn (SCY) and double-covered yarn (DCY). Our braided yarns are used in the production of socks, tights, elastic bands, medical textiles, woven fabrics, and metric knits. Not only do we offer elastic yarns to produce knitted fabrics. As a yarn manufacturer we also specialise in non-standard braids for use in technical products. We can use glass, steel, or other inelastic fibres as the core.
AIR COVERING
At the Air Covering Plant there are modern texturizing and air covering machines, to produce air covered yarns as part of a single process (texturizing and air covering on the same machine), as well as high-quality separate air covering machines. Our average monthly production of air covered yarns is about 200 tonnes. We also have special-purpose grafting machines, which can be used for small, non-standard projects. Our main area of expertise includes blended yarns, where different types or colours of yarns with a defined blend granularity can be combined. In addition, a technology to produce air covered yarns using carbon fibres has been developed, which is used in industry where protection against electrostatic charges is required. Moreover, we have appropriate laboratory equipment for assessing the resistivity of carbon fibre. Our machines are adapted to wind calibrated bobbins (yarn on the bobbin).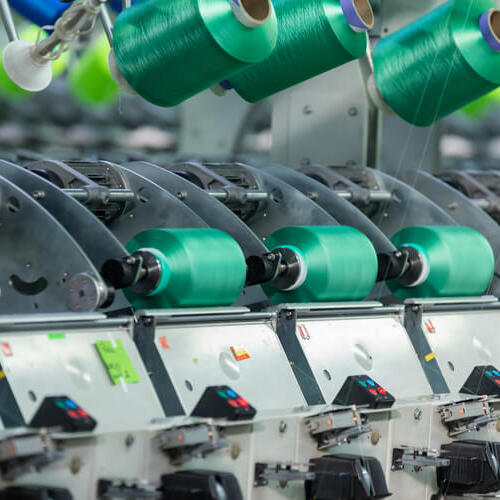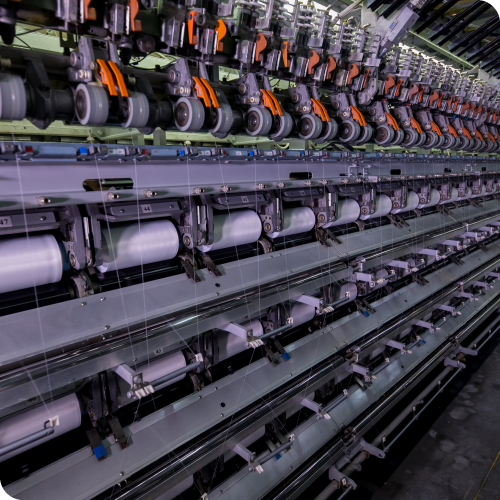 TEXTURIZING
The average monthly production of textured yarns is about 350 tonnes, mainly in polyamide yarns PA6 and PA66 with high elasticity and high skinning. A small part of the production is also PES type yarns. Since 2018, our texturizing plant has expanded its range to include textured polypropylene yarns. In addition to standard polypropylene yarns, we can texturize yarns with the addition of silver ions or with increased UV resistance.
As a yarn manufacturer we also have several stretching machines, where flat yarns are drawn on kops wounds.
TWISTING
There are six machines dedicated to twisting yarns within our plant premises. Filament yarns, such as polyamides, polyesters, and polypropylene, as well as spun yarns (ring, OE, MVS), such as cotton and viscose can be twisted. We can twist continuous yarns with staple fibre yarns as part of a single process. We can both twist single yarns as well as combine and twist them to produce multiple yarns; this results in increased uniformity and strength. Most of our twisted applications include PA6, PA66 and PES. Much of the production is for sewing threads for tights. The machines enable twisting on cylindrical and conical wounds.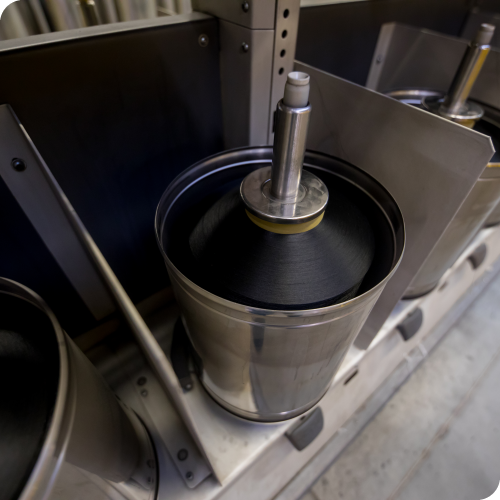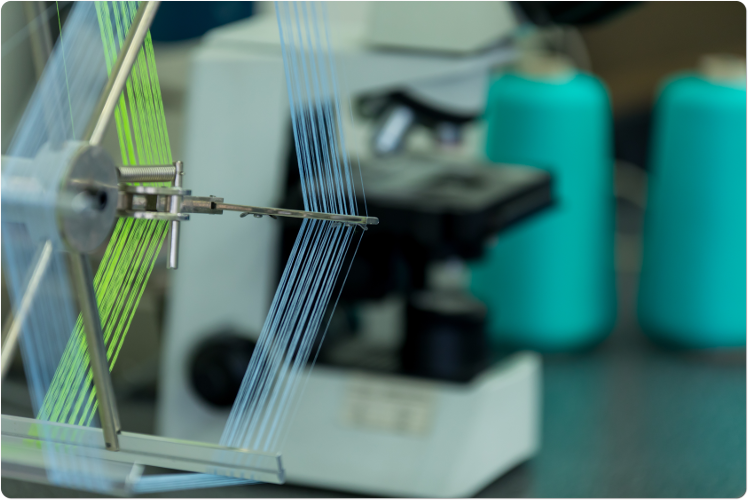 LABORATORIES
Support for our yarn production facilities is provided by three in-house laboratories. Owing to our qualified personnel and modern equipment, we can carry out all the necessary tests of continuous and staple fibre yarns, raw and dyed, including testing of linear weight, strength, elasticity, elongation, colour fastness, yarn uniformity and all other parameters necessary to produce a finished product of the quality required by our customers
GALLERY